It's easy to forget or downplay my reasons to be thankful—even more so when I'm not firing on all cylinders. So here's my short list to help remind me of God's countless, undeserved perks.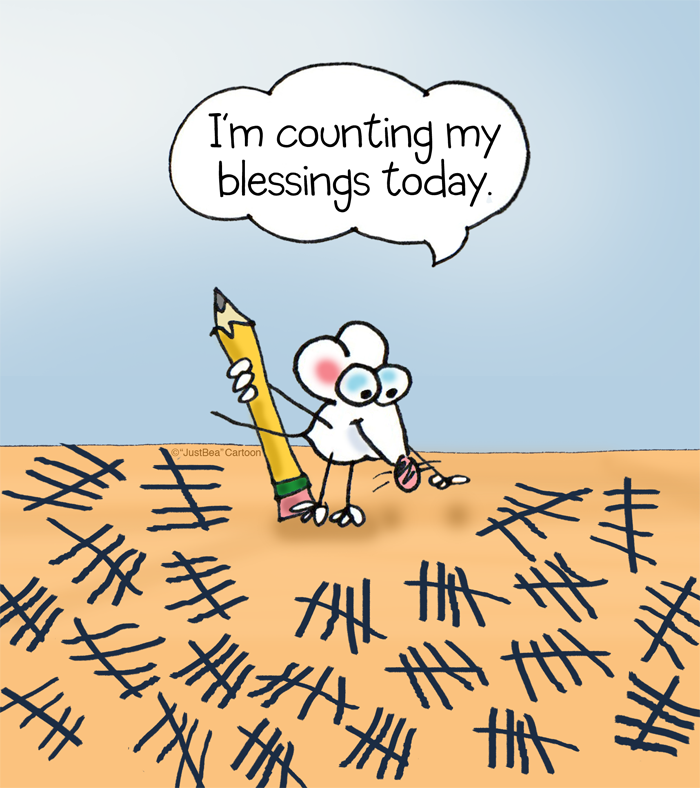 air
arms
art
babies
bakers
bats
BIBLE
birds
books
brain
breathing
cell phones
choices
clouds
clothes
communication
computers
creeks
crops to sustain
doctors
domestic animals
electricity
emotions
eyes
Faithful Husband
feeding formula
feet
fences
fingers
fish
fog
food for dogs
food for hens
fresh eggs
friends
fruit trees
GOD Who loves me
grass
grocery stores
hands
happy hens
hearing
home health service
hot water heater
hugs
jets
joy
kisses
laughter
legs
life
love
medicine
memories
memory
moon
music
new car tires
ocean
oven
paint
paper
parents
pencils
pens
piano
narcissus blossoms
pictures
pilots
Prayer
property taxes paid
rain
redwood trees
rivers
roads
schools
sea mammals
sidewalks
sight
silence
soap
soil
sorrow
special dogs
stairs
stars
streams
sun
sunrises
sunsets
teachers
tears
toothbrushes toothpaste
towels
trash collectors
vacuum cleaners
vehicle
voices
warm home
warm showers
washcloths
washing machine
water
wifi
wild creatures
wind
windows
Count Your Blessings is a hymn about gratitude.
It's a call to live beyond discouragement, difficulty, and despair
while striving to truly appreciate and be mindful of the
many blessings which the Lord has freely given.