Our third Bloodhound's home was Thousand Oaks in southern California, and her name was Shelby. Her owner's home was repossessed and they were no longer able to keep her. Concerned neighbors took her in, but that didn't last long. Shelby was passed off to a woman named Olivia who lived several hours north of Thousand Oaks. Olivia was temporarily sheltering dogs who were displaced due to home repos and military deployments. A neighborhood girl was also named Shelby. She had a reputation of being a bully, so Olivia's daughters changed the Bloodhound's name to Sadie. Alas, Olivia was unable to find a home for Sadie so she drove one hour north and relinquished Sadie to Woods Humane Society in San Luis Obispo. That's where Sadie spent the next 40 days until we discovered and adopted her on July 3, 2010. Jon didn't think the name Sadie suited her. My words to Jon—"If you allow us to adopt this Bloodhound, you can name her whatever you want." Jon liked the name Annie.
When we found Annie, she was about 15 months old and had been passed around four times. Imagine how confusing that was for a young Bloodhound! She never forgot the insecurity and fear that stems from rejection and not putting down lasting roots. So when we found Emma at San Luis Obispo County Animal Services in January 2012, Annie wanted to make sure she felt welcome and secure in our home. Emma had been picked up as a stray in nearby Arroyo Grande at only seven weeks old. The day before we discovered her, Emma had been adopted by someone with a very big dog. The following day the adopter promptly returned Emma to Animal Services saying they were afraid their dog was going to kill Emma! Traumatic for a small puppy. When an Animal Services volunteer took Emma outside to meet Annie, 4½ pound Emma took one look at Annie and let out a blood curdling scream that sounded like a human who had just been terrorized. She was so afraid! Jon carried Emma to our car while I completed the adoption paperwork. 
What happened next still amazes us. Jon was sitting in the front passenger seat with Emma in his lap, I was behind the wheel, and Annie was in the back seat. Annie instinctively put her long Bloodhound nose in-between the front seats, reached over and touched Emma's nose with her nose. No scream. No panic. Just superb reassuring communication between a Bloodhound and an eight week old mixed-breed terrier. From that moment forward, Annie and Emma developed the most wonderful relationship imaginable.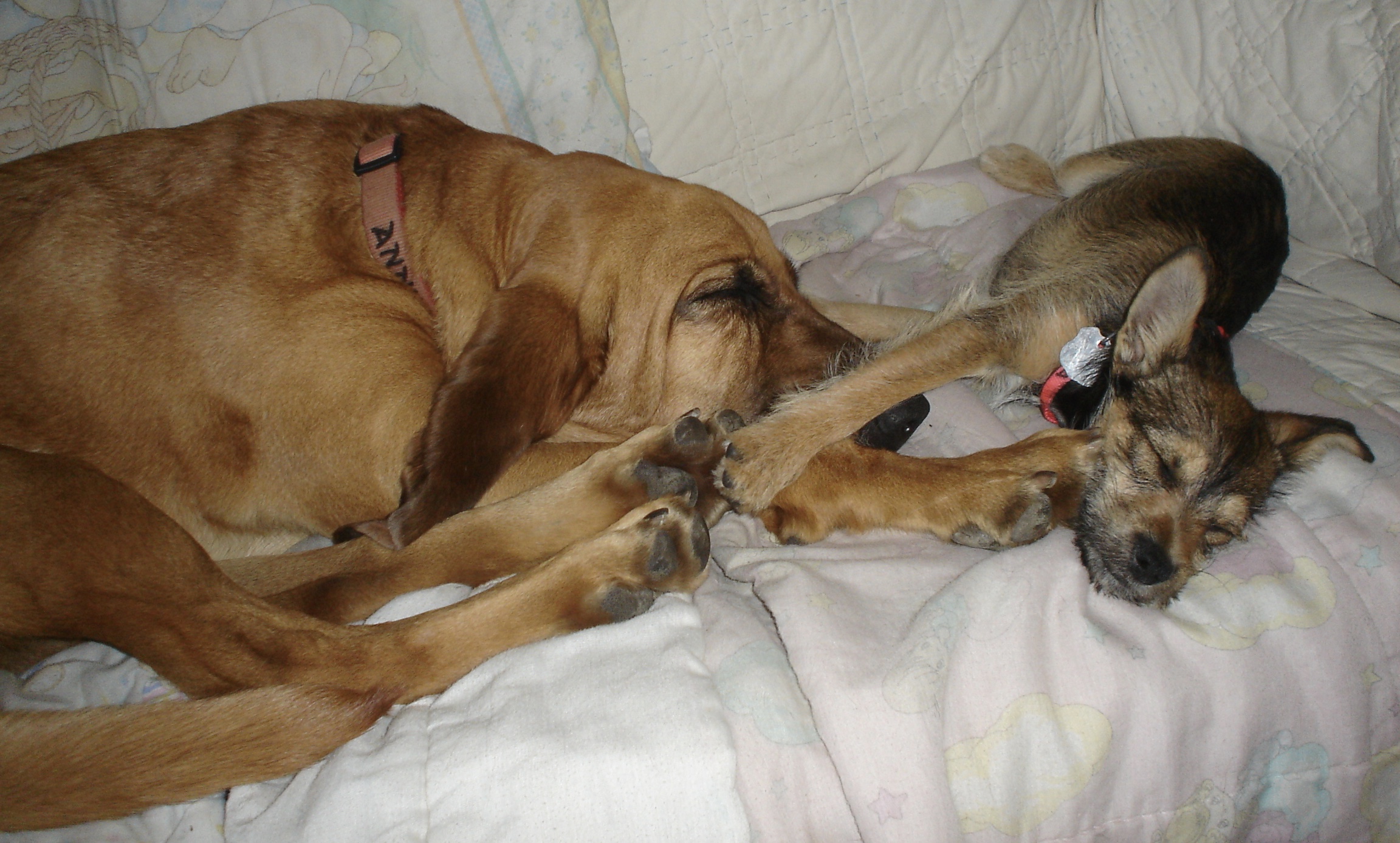 I've been thinking about life changing instances recorded in the New Testament when Jesus touched people or they touched Him. Here are just a few (emphases mine). All quotations are from the New International Version (NIV).
In the New Testament book of Matthew in chapter 8:1–3:
When Jesus came down from the mountainside, large crowds followed Him. A man with leprosy came and knelt before Him and said, "Lord, if you are willing, you can make me clean." Jesus reached out his hand and touched the man. "I am willing," He said. "Be clean!" Immediately he was cleansed of his leprosy.
In Matthew chapter 8:14–15:
When Jesus came into Peter's house, He saw Peter's mother-in-law lying in bed with a fever. He touched her hand and the fever left her, and she got up and began to wait on Him.
Luke 7:11–14:
Soon afterward, Jesus went to a town called Nain, and His disciples and a large crowd went along with Him. As He approached the town gate, a dead person was being carried out—the only son of his mother, and she was a widow. And a large crowd from the town was with her. When the Lord saw her, His heart went out to her and He said, "Don't cry.
Then He went up and touched the bier they were carrying him on, and the bearers stood still. He said, "Young man, I say to you, get up!" The dead man sat up and began to talk, and Jesus gave him back to his mother.
I John 1:1
That which was from the beginning, which we have heard, which we have seen with our eyes, which we have looked at and our hands have touched—this we proclaim concerning the Word of life.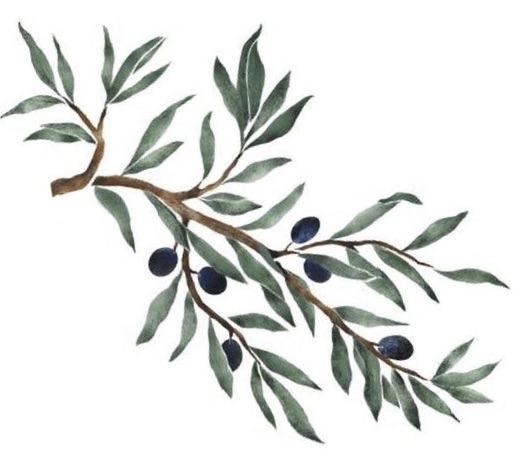 So here we are in the midst of a viral pandemic of an unimaginable magnitude. We've gone through the drill over and over—stay at least six feet away from other people, don't even think about touching anyone outside your immediate household, and for goodness' sake, no hugs! And yet, we were created to need touching. From the moment a newborn comes out of the womb, the mother caresses her babe closely. Preemies in the NICU (Neonatal Intensive Care Unit) need to be touched to help stimulate his or her healthy development. Children and adults alike need reassuring hugs and pats on the back. Yet our neighbors motion with their arms from across the street that they're giving COVID or virtual hugs. While their thoughtfulness is exemplary, it's just not the same as the real thing.
A virtual touch from Annie on Emma's little nose
would have conveyed nothing.
May we soon get back to real touches and hugs!