(1) The Midnight Sun
It was the summer of '72 when my parents decided to send my younger sister to meet up with me in Stavanger (pronounced Stuh–von–gurr) on the southwest coast of Norway. She brought along two Student Rail Passes. Those prepaid passes allowed us pretty much unlimited travel on European trains. What could our parents have been thinking? Two girls—ages 20 and 17—backpacking alone in Europe for two months! Texting, email, Skype were not even words in the dictionary. It was definitely one-way communication—we sent picture postcards home but they could send us nothing!
So we set off traveling up the coast to see the Midnight Sun in Bodø (pronounced Booh–duh). The Catholic nuns who managed the hostel told us that for two weeks before we arrived, many tourists had come and left highly disappointed because it had been raining every single day with clouds completely obliterating the sun.
The day we arrived it was gorgeous weather!
Bright, warm, mostly blue sky with just a few clouds.
We ventured out to the area where tourists wait until midnight
to watch the sun never disappear on the horizon and were not disappointed.
It was amazing!
The following morning when we departed, it was raining.
– Pictures taken with my trusty Kodak Instamatic camera! –
(2)  Unexpected Show
In the spring of 1983, Jon and I were tent camping with our first daughter at Plaskett Creek Campground. The campground is situated on the Pacific Coast south of Big Sur in the Los Padres National Forest. At the time, I was pregnant with our second daughter. After breakfast, we ventured out on a leisurely walk to the ocean. The shoreline in that area is extremely rugged with rocky outcroppings. Just a few moments after reaching the bluff overlooking the sea, we saw probably the most thrilling sight of our entire lives. Near the rocks—not more than 100 yards directly in front of us—a big whale spy-hopped . . . twice! It was as if we had been given free tickets to a ballet performance we knew nothing about. Neither Jon nor I had ever seen anything like it before nor have we witnessed anything like it since.
(3)  The Bus That Quit!
Having errands to run in nearby San Luis Obispo, I set off from our home in Morro Bay driving our 1970 V. W. bus . . . our three young daughters in tow. We were happily singing a song together as we drove up a big hill past the California Men's Colony state prison located outside of San Luis Obispo. Just as we got to the top of the hill, the engine suddenly stopped. The girls realized something was wrong and asked, "What are we going to do?" I responded:
We are going to pray and
coast down the hill.
After safely navigating to the bottom of the hill, there was a turn-out among some eucalyptus trees. That's where the bus came to a stop. Together, we prayed that God would take care of us. Then we gathered our belongings, exited the bus, locked the doors, and began walking toward San Luis Obispo. Before taking more than a few steps, a car pulled up behind us being driven by our good friend, Harry Beier. Harry had been on his way back to Morro Bay when he noticed our familiar red and white V. W. bus and the four of us out walking. He offered us a ride back home where I was able to call Jon at work to let him know we would need to make arrangements to have the bus towed.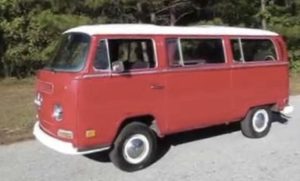 I've done a lot of praying in my life, 
but that's the quickest answer to a prayer I can remember.
Another evidence that God loves me and my girls
and was watching over us that day
more than I even realized!