A Young Girl's Dream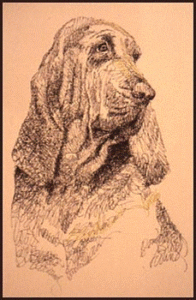 My love affair with not just any hound—bloodhounds—started as a young, impressionable girl growing up in Sierra Madre. The small, charming community in southern California nestled beneath the San Gabriel Mountains is flanked by Pasadena on the west and Arcadia to the east. Every Fourth of July, the town hosted a festive parade on Sierra Madre Boulevard. Bloodhounds were always accompanied by the Sierra Madre Search & Rescue Team (SMSR). The high point for me!
While enrolled in third grade at Sierra Madre Elementary School, two classmates' fathers served as volunteers with SMSR. One momentous day, both of those dads visited our classroom, magnificent bloodhound in tow. The men told us real stories involving their perilous work looking for missing hikers in the local mountains. Cell phones, GPS, and satellite communication weren't even on the radar in the late 1950s. Bloodhounds, however, have been around for a very long time.
A concerned mother would call the police (no 911 dispatch in those days!) when her son and his friends failed to return home as anticipated from a day hike in the mountains. The SMSR would be deployed to search for the missing boys. A boy's dirty sock, baseball hat, or other unlaundered piece of clothing could serve as a scent article—something having direct contact with the skin. Every person is created with a unique scent. No two alike. The handler strapped on the bloodhound's work harness, simultaneously sending a message to the hound saying, "We're going to work!" At the place the boy was last seen, the handler presented the scent article to the bloodhound. Once the hound connected the scent on the article with the matching scent on the ground, the bloodhound immediately shifted from neutral into high gear and instinctively began hunting for the lost boy. Amazing! It's just a fun game to the bloodhound. For humans, it can mean the difference between being lost or found. Perhaps life or death.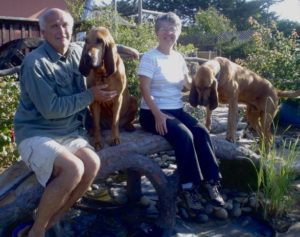 Jon and I began our quest for my Bloodhound in 2001. We later learned that Agatha had endured seven long months of confinement at Nevada SPCA in Las Vegas. Ultimately, she was rescued by a caring member of Las Vegas Metropolitan Police Department Search & Rescue Unit. The same kind woman transported Agatha to Barstow where she rendezvoused with a volunteer from Bloodhounds West who drove Agatha to their rescue facility in Laguna Beach. Three weeks later we adopted Agatha, who was about two-and-a-half years old. It soon became obvious she had considerable insecurities—fear of the unfamiliar. Plainly, she had been isolated much too long. As Agatha and I began bonding, we spent nearly every waking moment together. Little by little, her apprehensions began to fade. Eventually, we participated in scent discrimination training with other bloodhound handlers. Some who are reading this post helped by laying vital training trails for Agatha. Thank you! Your assistance was vital. It was an honor for Agatha and me to be given the opportunity to volunteer with San Luis Obispo Police Department assisting with low-profile missing persons cases. The Bloodhound nose is truly exceptional and unlike any other dog's nose.
The Bloodhound's Amazing Sense of Smell
Researchers have estimated that a bloodhound's nose consists of approximately 230 million olfactory cells, or "scent receptors"—40 times the number in humans. Whereas our olfactory center is about the size of a postage stamp, a dog's can be as large as a handkerchief—according to Larry Allen, it is among the largest in canines. "The physical size of their olfactory area far exceeds most other working scent dogs," he says. "The larger capacity combined with the desire to work makes them a very good tool."
Walker hailed from Walker County, Texas. Born on Memorial Day in 2004. We were concerned whether highly dominant Agatha would welcome this timid boy from Texas. She did accept him—but only to a point. Every.single.day, at least one time, she got directly in Walker's face and bellowed as loud as she could: "Walker, I'M THE BOSS!!!" Walker got it, he truly did. But Agatha needed to make sure he never forgot who was really the boss. Poor Walker.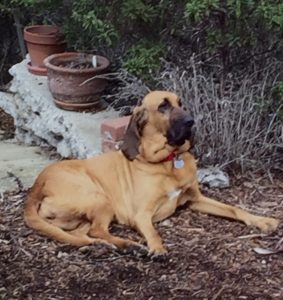 Sadly, in 2010, we lost both Agatha and Walker to cancer. Quite unexpectedly, while still grieving Agatha's departure, we discovered Annie at Woods Humane Society in San Luis Obispo. From all appearances, she was purebred—the real deal. Was it too soon to take in another bloodhound? Woods graciously offered us one full week to think it over: "Be here a week from today when we open, and she's yours to adopt." Annie was young, underweight, and obviously in need of care. One week later—July 3, 2010—our answer was "YES." We'll always remember the profoundly worried expression on Walker's face as Annie raced through our fenced yard at breakneck speed. Overjoyed to be out of confinement. Walker was a sensible boy—cautious, polite, and easily intimidated. Annie, on the other hand, had zero inhibitions. Never a thought of possibly injuring herself. For Annie, it's always been about having fun in the moment. What a way to live!
So, you see, we have a bloodhound.
Our home is by the sea.
And now you know the rest of the story!
Love this . . .
Psalm 37:4, one of David's meditations . . .
"Delight yourself also in the Lord, and He will give you
the desires and secret petitions of your heart."